We needed to cover our fifth wheel entry steps with carpet, but weren't 'excited' about the price of them in the stores. Our dog, Daisy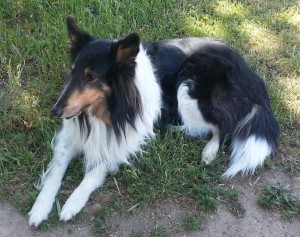 wasn't having a fun time trying to go up or down the steps, especially because they have little holes in them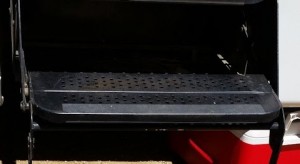 and we were worried she would get a nail caught. What actually happened was that as she was going up the steps one evening, she slipped and got a leg caught between two steps. Luckily, we were right there to help her and since she is a pretty mellow dog, she didn't freak out and get injured.
We had thought about covering the steps for a while, but like we mentioned, we really didn't want to pay the price for the store bought stair rugs. Lori can be pretty handy at times and she figured she could make something that could work, so here is the DIY that she did with her explaining the process:
We bought two small area/throw rugs from Walmart that were about $3 each.

First, I folded the rug in half so that the ½ size would fit around a step with a flap on each end to be able to fold over and tie underneath the step.

While folded in half, with the rubbery bottom outside, I clipped about an inch in on each end to see where to cut all the way without having to measure.

Then, I drew a line with a black Sharpie marker from one slit to the other using a yard stick as a straight edge.

I placed the rug on top of a cutting mat and cut with a razor knife.


This gave me two equal halves and would cover two steps from one rug.

Since I cut the rug in half, there would be a rough, unfinished edge of the carpet that would fray if left that way, so I used Gorilla tape to bind the edge.


I put tape on the uncut side too for uniformity and extra strength.


I folded the halved and now taped rug in half again so that I could mark where I wanted to place the eyelets.


(By folding in half, it gave me the middle of the rug where I wanted to place an eyelet).
I also marked where I wanted to place the eyelets on each end on both sides.


You can use whatever you have to make the holes, such as an awl, however; I am a crafter and used my handy dandy Cropodile punch/eyelet setter.

I punched the holes where marked,

and then set the eyelets.




You can also get a manual eyelet setter very inexpensively and that is a totally optional step.
Here is what the finished rug looks like.


Next, I used crocheted strings to tie on to the step.

You can use whatever string or cord that you like, I just happen to use these for everything!
I placed the rug on a step,

and then laced a string through each hole on one side,

then laced the other end of the string in the holes on the other side of the rug, UNDERNEATH the step,



and then tied the strings together.

I chose to use strings instead of bungees because I didn't want there to be any 'give' and have the rugs move around, I wanted them to be fastened down tightly.
So, it took two small rugs, some Gorilla tape for binding, some eyelets for durability (optional), and some strings to tie the rugs on, and we have four rugs for our steps at a very minimal cost.
Now, Daisy goes up and down the steps like a champ without the fear of slipping or getting a nail caught in one of the holes.