The weekend of the July 4th holiday was a pretty smooth time around the Toll Bridge Campground. However, this past weekend was slammed with 3 big groups of families taking over the entire 87 site campground! And boy, did they leave a mess!!!  The video just shows the trash containers, however the pics are amazing in that people actually do leave crap…I was always taught if you PACK IT IN, PACK IT OUT.
This is one of two trash area's for campers.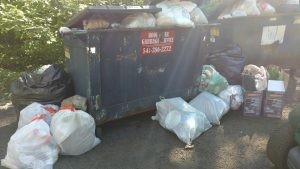 One of the campers actually knocked down one of the speed limit signs.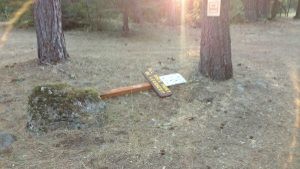 One of the worst sites we cleaned up had almost a full carton of cigarette butts along with other items that just don't belong in a camp fire pit.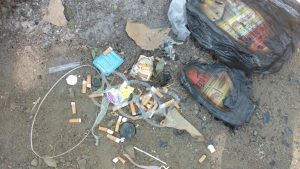 This weekend camper actually went into the county burn pile area (which is off limits to all campers) and took some of the wood for them to burn because the didn't want to purchase firewood evidently!

More goodies for us camp-hosts to dig out of the fire-pit. And along with this stuff, we always find eggshells and banana peals…these items don't burn! They belong in the trash bags!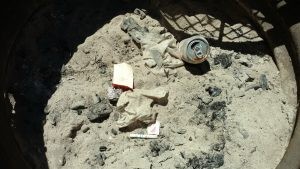 In this loop area of the campground, there are no sewer hook ups, only power and water are offered. However, this site looks as if the campers dug a trench and then dumped at least their gray water tank on the ground.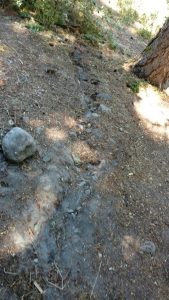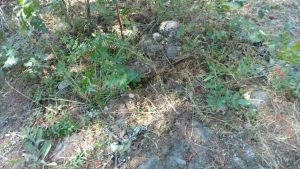 Yep. Quite the weekend!  We got all the sites cleaned up, which was pretty much an all day event this time!
In the end though, our efforts are totally worth it when one camper comes up to us and says "wow, I've never been to a campground with the sites raked out and as clean as this one"…..