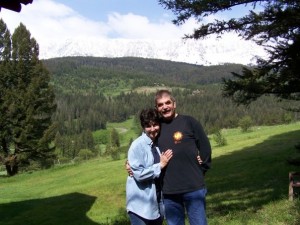 Who we are:
Tom was born in St. Louis, MO. His mom says that he has always had a transistor radio up to his ear since he was two. He's been hooked on radio ever since.
Lori was born in Reno, NV. She was brought up with a love for animals. She had artistic dad and a music loving mom.
It was only a matter of many, many years later that these two would meet at a radio station in Reno on March 9, 2000.
We were married in 2008 and have traveled to Fiji for vacation, and have lived in Nevada, Montana, and California.
We have six children collectively, scattered across the country, with grandchildren in Kansas, two grandsons in Reno, and one grandson in California.
What we do:
Tom loves his radio stuff and is a self-proclaimed computer geek.  Tom has been in broadcasting for over 40 years!  Now freelancing his way across America! Check out samples of Tom's work:   http://tomjordan.net
Lori loves her animals, country singers, and her crafting.  Lori has been an Admin Assistant and Office Manager for over 17 years and is now doing some bookkeeping on the road, but prefers being a Stepford-Wife and even better, making crafts and jewelry as we cross the country!  Check out Lori's Crafty Stuff & More:  http://craftystuffandmore.com
Our furbabies:
We are enjoying our new life adventure together in our home on wheels with our two fur baby girls.
We recently loss our Daisy May our collie/border collie mix. She was with us almost 11 years as we rescued her when she was just over a year old. We miss her so very much…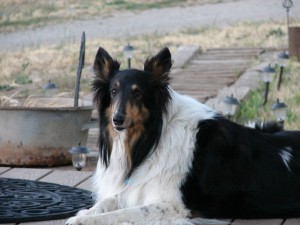 and Kaylee, our gorgeous Norwegian Forest Cat!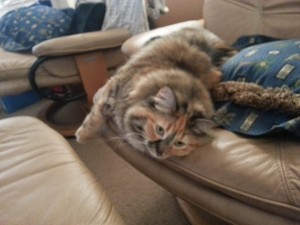 How we live and travel:
Our home is in two parts, one part is of course, our 2005 Alfa Leisure See Ya 35′ fifth wheel whom we lovingly refer to as TALOW (Tom And Lori On Wheels)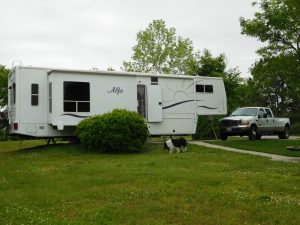 and the other part is our work horse Ford Lariat Super Duty F350 Dually that we named ITOW, because that's what he does! (Pronounced: eye-tow)